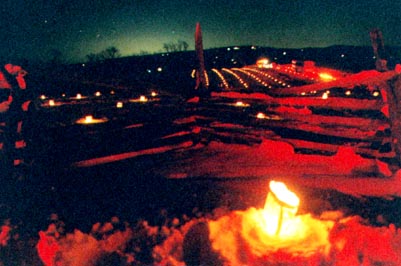 2002 Antietam Illumination
Photo By John Lamb

Second Maryland Infantry Bibliography
Regimental History
Benjamin F. Taylor, John Lamb, ed., For the Glory of Maryland: The Second Maryland Infantry, 1861-1865, In Progress.

Contains an introductory chapter on the regiment, a chapter on the author, an 18 chapter account of the regiment's service, an updated unit roster, and several appendices. Publication date: to be announced
Roster of Soldiers and Officers
State Commissioners,The History and Roster of Maryland Veterans, War of 1861-1865 2 Vols., Guggenheimer, Weil and Company, Baltimore, 1898.

Contains a short history and a roster of the unit. However, the roster is severely flawed with a minimum of 114 errors in the roster of the Second Maryland alone.
Other Published Sources
Theodore Dimon, James I. Robertson,Ed., "A Federal Surgeon at Sharpsburg," Civil War History Vol.5, No.2, June 1968, pp. 134-151.

An extrodinary account of the Battle of Antietam from the perspective of the 2nd Maryland's surgeon. It is graphic and bloodcurdling.
Jacob E. Duryee, "The Second Maryland at Antietam," Maryland Historical Magazine , Vol.12, 1917, pp.134-151.

This article explains Duryee's reasons for resigning from the service and recounts the unit's participation in the attacks on Burnside Bridge.
John W. Lamb, A Short History of the Second Maryland Infantry, 1861-1865, Http://home.att.net/~secondmdu/hist.html

A short, unfootnoted summary history of the Second Maryland Infantry.


John W. Lamb, "Pope's Escape From Lee at Clark's Mountain," America's Civil War, July, 1998.

This article presents a revised account of events surrounding Clark's Mountain, Virginia, on August 18, 1862. This account is the first to place Pope's sources of the intelligence that saved his army in the proper order: (1) a Union spy-Thomas Harter (2) a reconaissance by the Second Maryland Infantry (3) and the Captured order.


John W. Lamb, "Commands: The 2nd Maryland Infantry served the Union from the Coast of North Carolina to the trenches of Virginia," America's Civil War, November, 1999.

This article presents a short history of the regiment's service during the entire war.


Harry W. Matthews, Harry Being the Recollections of an English Boy Who Served Four Years in the Union Army During the Civil War, Iowa Printing Company, Iowa CIty, 1927.

A very lively account of life in the Second Maryland. Matthews painted with a broad brush, placing himself at the center of most of his accounts. Contains many colorful accounts, not entirely to be trusted, that the more staid Taylor did not.
Archival Sources
Letters of Harry H. Stewart, Private Collection
Jacob Eugene Duryee Papers, Private Collection
Maryland Hall of Records, Annapolis, Maryland
Regimental and National Colors of the Second Maryland Infantry
National Archives, Washington, D.C.
Muster Rolls and Company Order Books
Compiled Service Record files for many unit members
Pension files for many unit members