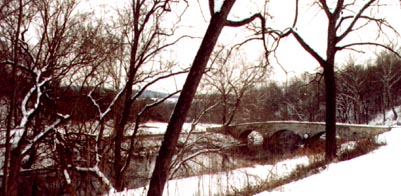 Burnside's Bridge, Antietam.
Photo By John Lamb
An Excerpt From the Forthcoming Unit History

By Benjamin F. Taylor

Speaking of the Second Maryland's experience at the Battle of Second Manassas:
"Many pieces more than we had ever seen assembled before, went into battery at Henry House hill to the left of us and Pike and on the Dogan Hill in front. This was the center of our line. While we were watching their methodical and business- like movements, the commanding General (Pope) and two of the principal officers of his staff rode up, dismounted, and took position on the little hill in our rear. Pope seated himself under a small, though spreading tree, and was soon engaged in writing, at the same time conversing with those about him. Shortly several shells came screaming their way directly over his head, but they were unheeded and apparently unnoticed by him, though many in our ranks shied and ducked at the unwelcome too business-like sound. It was not long before shot and shell found the batteries; it was their range the enemy were after, and though we in support came in for a share of the random missiles, the General was troubled, if troubled at all, no more. For a time all firing ceased. Pope did not seem ready, nor was Jackson seemingly anxious, or for a time at least desirous of an attack.
"As the day wore on to afternoon, the roar of musketry and boom of guns commenced again. From time to time heavy columns with gay horsemen and banners passed us going to the left and front, and distance converting them to dark masses, we marked them as they disappeared in the thick wood by Groveton Heights and noted that then the roar and tumult would commence anew. Each increase of noise was preceded by dark bodies moving en-mass, each decrease by wide gapped struggling lines moving out from the leafy trees, and so the ebb and flow, the continuous attack and repulse went on until at about 3 p. m. our turn came..."