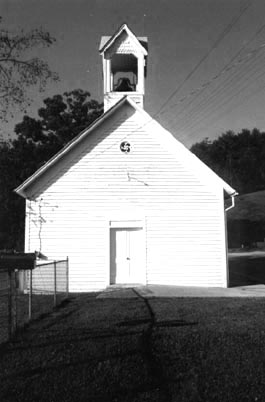 The William H. Headrick Chapel
Rise My Soul: Old Harp Singing from Wears Valley
A selection of 31 lessons from the September 23, 2001 Headrick's Chapel singing is now available, with a new look, and expanded notes about the history of Old Harp singing, Headrick's Chapel and the 31 songs.
Please note this recording is a reworking of the "Never Part Again" cd mentioned on this page. "Never Part Again" contains more songs, but has only minimal notes and information about the tradition. This disc is a much more complete inroduction to the tradition.

The singing was captured by two Behringer B-2 studio microphones, placed above and to the rear of the Alto section, processed through a Behringer pre-amp and into a Tascam DA 20 MKII Digital Audio Tape recorder.
---
Title: Rise My Soul: Old Harp Singing from Wears Valley
Recording Date: Recorded September 23, 2001
Location: The William H. Headrick Chapel, Wears Valley, Tennessee.
Recorded by: John Lamb
Contents:

1 - Holy Manna - 107
2 - Wondrous Love – 143
3 - Saint's Adieu – 124
4 - Northfield - 115
5 - Parting Hand - 95
6 - Dundee - 53B
7 - Sion's Security - 30
8 - Ninety Fifth - 35
9 - Promised Land - 47
10 -Devizes - 94
11- Western Mount Pleasant - 206
12 - Mt. Olivet - 51
13 - Liberty - 98
14 - Morality - 89
15 - Importunity – 60
16 - Marston - 131T
17 -Shawmut - 80B
18 - Morning Trumpet - 99
19 - Paradise - 68T
20 -Idumea 44
21 - Coronation - 117
22 - Rowley - 144
23 - Marlow - 59T
24 - Easter Anthem - 195
25 - Golden Hill - 81B
26 - Midnight Cry - 84
27 - Spring - 170
28 - Mount Vernon - 104T
29 - Old Hundred - 11
30 - Whitestown - 180
31 - Long Ago - 183


Ordering Information: Price is $10 per cd, plus $2 shipping and handling.

Please send your check and order to: John Lamb, 7426 Hydrus Dr, Harrison, TN 37341. Questions? send mail to John Lamb
---