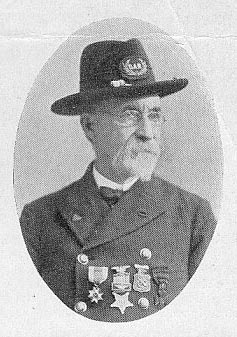 Colonel Benjamin F. Taylor
By John Lamb

In his day Benjamin F. Taylor* was among the most prominent Union Veterans in Maryland. His image, views, and activities were featured many times in Baltimore papers. But like so many of his generation he has been forgotten.

Benjamin F. Taylor was born November 13, 1840 in Baltimore, Maryland to Robert Alexander Taylor, Jr. and his wife Esther Ann. His early years were spent at the families estate, Mt. Peru on the western edge of the Chesapeake Bay.

Benjamin was educated, first at Newton University, and then at St. Timothy's Hall in Catsonville, Maryland. Where he graduated in 1859. His classmates at that school included John Wilkes Booth and his brother Joseph, among the most prominent.

He then attended the Maryland Agricultural School in Bladensburg, Maryland for one year before returning home to Mt Peru.

In the wake of the Baltimore Riots, Taylor formed a Home Guard Company and began drilling it in Bradshaw, Maryland but fell ill with Typhoid. After recovering he enlisted as a private in the Second Maryland Infantry on September 30, 1861.

His rise to eventual command began on October 6 when he was made sergeant-major. His ranks and posts over the next four years would include:

2nd lieutenant, Co. B, July 12, 1862.
Aide De Camp/Provost Marshall, First Brigade, Second Division, Ninth Army Corps Nov-Dec, 1863.
Acting Inspector General, Second Brigade, Second DIvision, Ninth Army Corp Jan.-April 1864
Captain, August, 1864
Lt. Col., October, 1864
Brevet Colonel, April, 1865 for bravery in final assault on Petersburg.
Colonel, July 12, 1865

During the war he would be wounded slightly two times, and once severely while on the line during the siege of Petersburg.

After the war Taylor returned to agriculture, and would be active in Republican politics, the Grand Army of the Republic, the Grange, as well as other veteran's and agricutltural organizations. He served as a county commissioner for Baltimore County , Maryland for a time, and stood for election as sheriff unsucessfully.

The most enduring parts of Taylor's legacy besides his history of the 2nd Maryland are the two monuments to Maryland forces that he helped build: the Maryland Monument at Antietam and the Third Maryland Infantry/Latrobe's battery monument on Orchard Knob in Chattanooga, Tennessee.

He served as assistant superintendant of Arlington National Cemetery, and then as superintendant of the Loudon Park National Cemetery in Baltimore, where he died at his post on February 25, 1919.

*The subject of this essay is not to be confused with Benjamin F. Taylor (1819-1887), who covered Chickamauga, the Siege of Chattanooga, Lookout Mountain, Missionary Ridge, and the early days of the Atlanta Campaign for the Evening Journal (Chicago, Ill.). He was the author of several volumes of poetry, and Mission Ridge and Lookout Mountain, with Pictures in Camp and Field.

This Web Page is respectfully dedicated
to the memory of Colonel Benjamin F. Taylor,
one of the "Bravest of the Brave."